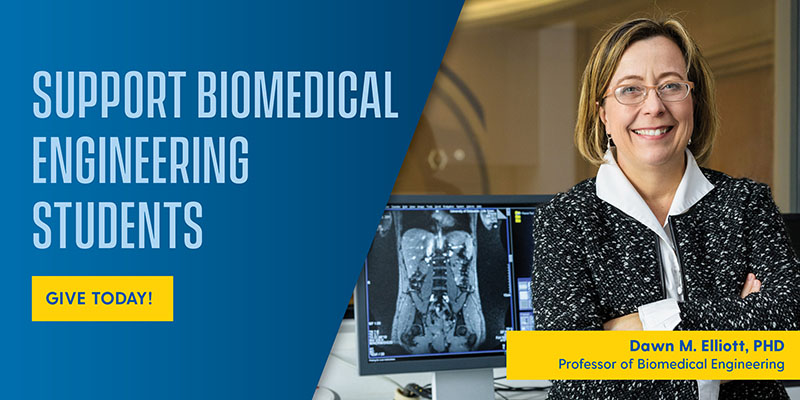 The Dawn M. Elliott Biomedical Engineering Research Fund
In honor of the biomedical engineering program's 10-year anniversary, help enrich the academic experiences of our Blue Hen students by making a gift to the Dawn Elliott Biomedical Engineering Research Fund. The fund supports hands-on research activities while advancing a fundamental understanding of the mechanisms that drive disease and developing technologies and therapies to improve human health.
From now until June 30, 2022, a donor will match your gift 1:1 up to $50,000, doubling the impact of your gift! And who doesn't love a challenge? Help ensure we maximize our potential in biomedical engineering!
Contribute to BME
Making a gift to Biomedical Engineering is simple with our easy, online giving form.
If you prefer to send a check, please make it payable to the University of Delaware. Note Biomedical Engineering in the memo section of your check to assure your gift is allocated correctly. Checks should be sent to the Office of Annual Giving, University of Delaware, 83 E. Main St., Newark, DE 19716.
Gifts from individuals, companies, and foundations provide the College of Engineering with the necessary resources to assure the vitality and growth of our educational and research programs.
Your gift may be designated to the Department or Fund of your choice with the confidence that it will be used for the purpose you intended. The College's giving opportunities are described below.